Plant Growing LED
if your plan is
to grow
diverse plants
by LED Technology,
Then, let us support you!!
If your aim is to utilize LED light to grow various Lettuce types, Colored vegetables, Herbal plants, Edible flowers, Tomatoes, Pepper, Cucumber, Eggplant, or even fruit vegetables such as Strawberries, then our new LED-light series "AGRO'S" can do this mission for you.
5 Reasons for choosing AGRO'S series.
Reason 1.
Optimal plant cultivation LED
A global Share of 50%, in discerning flash lighting, has been achieved with major camera makers.
In developing the AGRO'S series, The optimal wavelength for plant growth was selected based on our accumulated flashlight technology know-how, as well as a closed partnerships with Agriculture research institutions such as universities.
With the growing of diverse plants, this LED could also succeed in speeding up plant growth, pigmenting leaves, and appetizing the taste.
5 distinctive wavelengths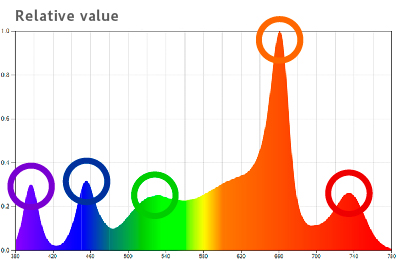 Wavelength [nm]
Measurement mode = Steady
light Color temperature = 3107K
Peak wavelength = 661nm
Reason 2.
Uniform cultivation cost reduction effect
This LED uses an innovative and featured multiple Reflector powered by a diffusion and condensing reflection techniques, which is based on a plasma polymerization aluminum vapor deposition technology applied originally in flash lighting.
Now, Uniform cultivation become possible with a small number of this LED lamps.
Henceforth, applying this LED will reduce the running cost by reducing simultaneously the initial costs and the number of LEDs.
Reflector (patented, patent number 6518375)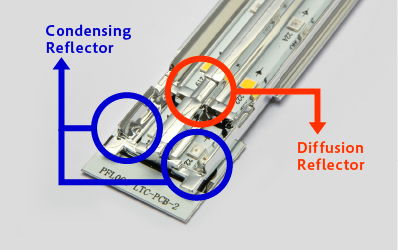 Reason 3.
Recommending the optimal LED installation for you
By providing us with your planting environment information, our original simulation software can simulate the optimal LED number and the optimal setting method for an efficient vegetable yield.
Please consult us before you start installing your system.
Simulation image of optimal LED installation proposal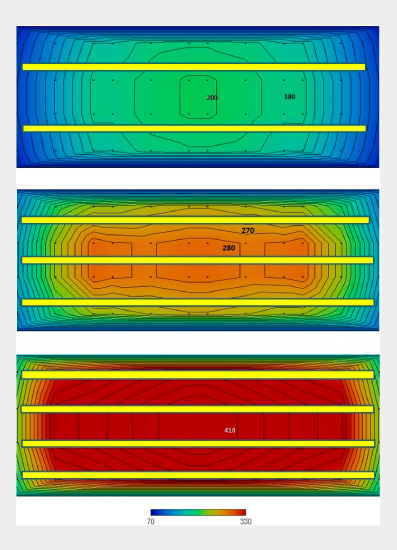 Reason 4.
Free-of-cost LED-Testing at your site before purchasing
For mutual satisfaction, we do supply our first-time Customers with the required number of LEDs for an experimental period before any purchasing.
Please feel free to request our LEDs samples to check the cultivation conditions at your site.
Many of our Customers are delighted with the speed of cultivation and the high quality of cultivated plants.
Romaine lettuce (Applied example)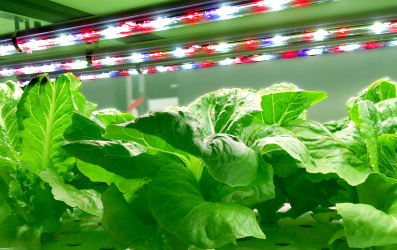 Reason 5.
Light adjustable LED availability
The Wavelength and light intensity can be adjusted at hand.
There are many benefits of light intensity adjustment, here are some of them:
・ Possibility of control depending on the cultivated plant type.
・ Cut the abundant wavelengths depending on the growing season. For the reduction of power consumption.
・ Contributes to coloring and takes measures against physiological disorders.
・ No more necessity to prepare several different LED types to run any cultivation research.
Would you like to share us your thoughts or initial plans?
We are really appreciating your feedback.
Irradiation based on blue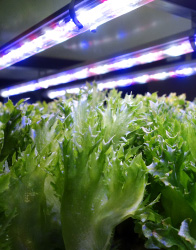 Irradiation based on red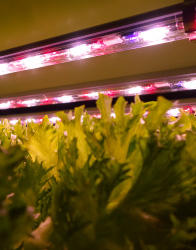 ---
Any issues in caltivation?
Are you facing any issue with hydroponic plant cultivation? …
Plant cultivation requires all growing conditions such as light, water, carbon dioxide, temperature, and humidity. The Light holds a particularly large weight among these conditions.
So here we are to support you a long your way for best yield possible. Just consult us any time.
---
Hydroponics Examples
[You can also grow these plants]
●Nadesico ●Viola ●Nastatum ●Time ●Arugula ●Basil 
●Pepper etc.
Romaine lettuce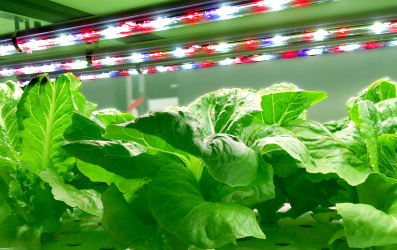 Swiss chard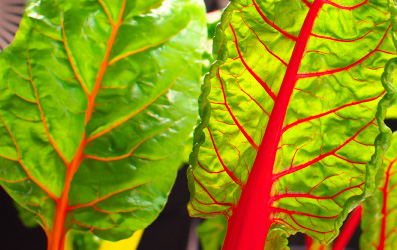 Marigold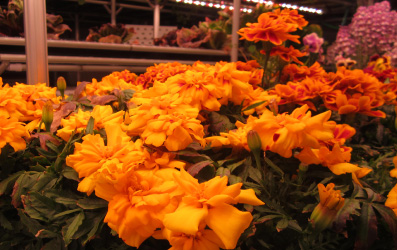 Leaf lettuce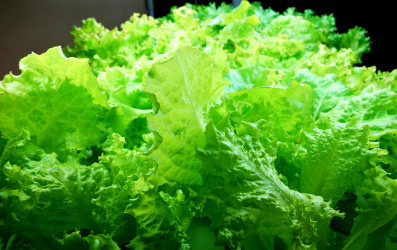 Customers' Voice
We introduced part of the voices we received from our customers.
Our aim is to have our customers fully satisfied with AGRO'S Series.
Okinawa Prefecture of Japan
I compared the growing level of many plants with different LEDs from different companies. I found that the growth speed is much higher with AGRO'S LEDs.
The fact is that the higher growing speed the larger the harvest yield.
Hence, I think this is significant enough for any hydroponics grower to adopt AGRO'S
Another significant factor was the ability to reproduce colors of many plants by AGRO'S, which is a simulative of the sunlight.
By being able to control plant coloring, with a wide range of cultivated items, many inquiries from different companies to buy our cultivated plants are received.
Fukui Prefecture
At the moment, we are still using fluorescent lamps, but we conducted vegetable cultivation test using a reduced number of AGRO'S LEDs.
Despite the reduction of number of lamps, we were able to have the same amount of fluorescent light energy to grow our vegetables.
I especially start to feel the merit of the leafy vegetable cultivation.
We expect from Shibakawa company to make for us a new series that is also effective for scenting the herbal vegetables.
Shizuoka Prefecture
As we used AGRO'S LED in our first test to the plant cultivation, we make an error in the planting environment settings. Hence, currently we are repeating the test once again after fixing the installation settings. But we still have no result yet.
We would like to thank Shibakawa company for their supportive efforts
Please continue to give us your support.
Kanagawa Prefecture
We are considering switching from fluorescent lamps to LEDs, and we are testing LEDs from various manufacturers.
AGRO'S gave us the best result to grow vegetables.
Still, a phenomenon called elongation because of light deficiency related to the small number of installed LEDs.
I think that this problem will disappear through using the recommended number of LEDs.
With AGRO'S also Colored Vegetables maintained their color as with fluorescent lights.
The budget plan for purchasing AGRO'S will be allocated by next fiscal year, so up to that time we say thank you a lot.
Mie Prefecture
AGRO'S LED has been tested as supplementary light for strawberry cultivation in our greenhouse.
Surprisingly, by supplementing AGRO'S light, both the actual weight and number of strawberries increased by more than 20%.
However, since strawberries are cultivated throughout the year, we would like to continue testing so we would appreciate your continuous support.
First of all, Order free rental test samples.
Frequently asked questions
Q. What is the price of AGRO's series LED?
A.It depends on the number of the purchased LEDs and your project plan. Please consult our sales department through the above direct line, where you can request a quotation as well.
Certainly, for trial cultivation testing, we recommend you to order a rental AGRO'S samples free of charge.
Q. How long is the warranty period?
A.One Year.
We work hard to ensure high quality. But in the event of unexpected item failure after delivery, over a usage according to the instruction manual, we do free of charge repairing or replacing the item.
We will also investigate and analyze defective products, if any, as necessary and report the results to our customers.
Q. How long is the time duration between ordering and receiving the LEDs?
A.Please contact us for details as it depends on the number of customers ordered and our stock status.
Q. Are these LEDs exclusively for Hydroponics / Horticulture?
A.No!
Basically, it is a product developed for hydroponics, and it can easily utilized as supplementary to sunlight in greenhouses (Inter-Lighting).
Q. Is there a cultivation guarantee?
A.No!
Plants are cultivated under various conditions such as light, water, nutrients, carbon dioxide, and temperature. A balance of these and many other cultivation elements is necessary for guaranteeing an excellent plant cultivation.
But our accumulated Know-How and Experience can support you to achieve the best cultivation.
Q. Overseas Sales, is it possible?
A.Yes! Basically, it is possible.
Since the safety standards differ from country to country, please consult the Sales department regarding this issue.
Q. Are you a cultivation system provider as well?
A.No!
But feel free to consult our Sales department for the necessary Know-How regarding this issue.
Please do not hesitate to consult us if you have any questions or issues.
Transaction flow
Step 1.
Catalogue and LED info
Provide us with your cultivation plan and installation environment.
Consult us, and ask us to provide you with the LED specification.
Step 2.
Appointment
The person in charge will contact you an appointment with you based on the information you provided and your schedule. We be glad to visit you site for direct support as well.
Please tell us the installation size, height, and other necessary information to create the optimal LED installation simulation.
The simulation accuracy depends on the information that you provide us.
Step 3.
Free rental Sample LEDs
Based on our simulation, we will provide the required number LEDs for testing at your site.
Please inform us with your desired lending period then conduct the cultivation test.
Step 4.
Quotation
After you get the required proof to the Cultivation efficiency of our LEDs. Then you are requested to inform us by the required number of LEDs, the preferred delivery date, and any other issues as well.
Then, we be able to make the Quotation and send it to you,
Step 5.
The Order
As our Quotation fulfills your requirement, you can just make the official order by filling the order application form and forward it to us.
Step 6.
Delivery
The delivery will be done within your specified date. Then, we will follow-up your installation status as well.
As for payment, we have a partnership with Mitsubishi UFJ Lease, which make the review smooth and contract simple.
---