3 Powers of Shibakawa
Technology, Production, Supply
In the revolution of digitalizing the whole camera industry, on the switching direction from the long analog era, we were able to achieve our present position through pursuing the highest technology in electrical, mechanical, and optical fields.
With the fusion of these 3 concrete elements, we could reach uniqueness not found in other companies, which we are glad to be proud of.
Of course, in addition to the technological capabilities, the current Shibakawa-Works position, would have never been possible, to withstand the production capacity and fluctuations; without the flexible and stable supply chain, which is capable to finalize our products to the recognized industrial shape.
In the flashlight surrounding world, lighting development and expansion of user experience have Infinite possibilities. Hence, we will go on in continuing the refining of our 3 powers, "Technology", "Production" and "Supply"; aiming to be the world's best company in the field of manufacturing and controlling the artificial light technology.
The mission of Shibakawa is to supply as many products as necessary when customers need them.
We will continue to fulfill this mission through strong internal and external collaboration.
Shibakawa's procurement system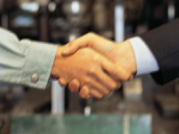 We have achieved excellent procurement capabilities through collaboration between the groups. We have a strong relationship of trust with our business partners through the coexistence and co-prosperity that cares about the business conditions of our business partners from the time of our founding. In addition, by making direct transactions with business partners as much as possible, we are constantly working to improve the cost and delivery time to customers. These daily corporate efforts enable stable and quick procurement, which ultimately leads to stable and speed supply with the quality required by customers.
Shibakawa's logistics system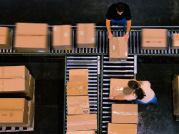 In addition to production capabilities, logistics capabilities are indispensable for excellent supply. In a nutshell, Shibakawa's logistics system is a system that "can move the will of logistics further." That means that the physical and psychological distance between Shibakawa and customers is closer.
By minimizing the loss of communication till the completion of a product, we fully prepare the system for logistics before shipping.
After the products leave the Shibakawa factory, we will supply products directly to customers using the most suitable logistics network. One of Shibakawa's strengths is a low-loss logistics system that is always aware of inventory, quality, and capacity, and that can withstand production fluctuations. In addition, since such a system has been continued for nearly 20 years, a variety of logistics know-how has been accumulated within the company, and it is possible to respond flexibly even in the occurrence of any unexpected situations.

The Supply that Shibakawa aims for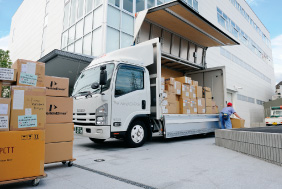 In Shibakawa, while maintaining the current procurement system and logistics system, by refining the following even more
① Handle any parts
② Can handle any order
③ Support suppliers with more suitable technical and creditworthiness
④ Use all logistics networks to fulfill supply responsibilities
We will build a stronger quality assurance and supply system that covers the above.