3 Powers of Shibakawa
Technology, Production, Supply
In the revolution of digitalizing the whole camera industry, on the switching direction from the long analog era, we were able to achieve our present position through pursuing the highest technology in electrical, mechanical, and optical fields.
With the fusion of these 3 concrete elements, we could reach uniqueness not found in other companies, which we are glad to be proud of.
Of course, in addition to the technological capabilities, the current Shibakawa-Works position, would have never been possible, to withstand the production capacity and fluctuations; without the flexible and stable supply chain, which is capable to finalize our products to the recognized industrial shape.
In the flashlight surrounding world, lighting development and expansion of user experience have Infinite possibilities. Hence, we will go on in continuing the refining of our 3 powers, "Technology", "Production" and "Supply"; aiming to be the world's best company in the field of manufacturing and controlling the artificial light technology.
In order to produce the necessary and sufficient level with no waste, we are making thorough efforts to build our actual product using the fusion of electrical, mechanical, optical technologies in both hardware and software areas.
Increase productivity in each process and strengthen overall productivity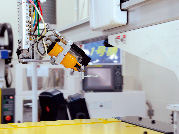 Since almost all processes from design to mold production, molding, painting, vapor deposition, mounting, assembly, and evaluation can be covered in our factory, there is usually no loss of distance and time that occurs, and production efficiency is high. This is just one of Shibakawa's strengths. In addition, the separation of domestic and overseas factories, such as prototypes and small lots in Japan and mass production in China and Thailand, contributes to efficiency. Shibakawa's entire production system is equipped with equipments such as Robo-Nano ultra-precision processing machine, injection molding machine, and plasma polymerization vapor deposition machine. Hence, it is a system that can complete almost a series of production either completely inside Japan or completely overseas, and with high productivity in each process. This give us our strength.
Continuation of communication and improvement between processes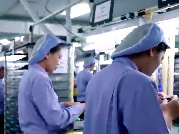 Simply increasing the productivity of each process is not enough. If there is a loss between successive processes, the production efficiency will decrease. In Shibakawa, we are devising ways to further increase productivity by carrying out detailed and rapid information transmission (the will to communication) with an eye to the final process.
Also, in the assembly process that uses the cell production system, productivity is improved day by day by continuous improving. We are willing to make every effort to increase productivity in every process. Some examples of this are the introduction of evaluation equipment that can be make a product in a shorter time, and the development of highly versatile checkers within the company.
Shibakawa Production Flow
The previous and next processes are parallelized and unified in the assembly process and finally flowed to the evaluation process.
Shibakawa's production style aiming for higher productivity on the Manufacturing Technology Center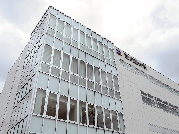 The "Manufacturing Technology Center", established in April 2009, plays the role of planning, executing, and transmitting information as the center of the Shibakawa Group in Japan and overseas, and constantly strives to improve the production technology.
In addition, the "Manufacturing Technology Center" located in the Tokyo metropolitan area will control each production base dispersed overseas, strive to avoid risks such as political problems at overseas production bases, and will continue to fulfill the responsibility for supply.