Dec 7, 2020

The Productive Peas with Shibakawa LEDs
Peas, edible flowers and healthy seeds
Hello, our dear Readers. I back to you with a new article and new guests.
I hope all of you doing well, and preparing for the coming cold winter; especially for those who are living in the northern hemisphere of this planet. Our readers in Pavlodar, Tatarstan, and other Kazakhstan and Siberian areas already have heavy snow and below-zero temperatures.
This time we would like to introduce you a new guests from the leguminous vegetable family. Yes!! As you can see from the image, the first guest is the sweet green peas.
Flowers, baby pods, and fresh seeds are all edible.
The story of peas with Shibakwa LEDs
As we always get used to, we implemented Shibakawa High-Tech LEDs to grow up these peas. We applied on them a full indoor environment with an average temperature of 20℃.
As an experiment, I grew around 14 seeds of these peas in an area of 0.15 square meters (50 cm in length, and 30 cm in width), with an available height of 120cm.  Practically, they grew very quickly and so productive.
Counting from the date of sowing seeds, their flowers start blooming after 30 days, first edible pod with full seeds in around 40 days, and the harvest of the whole production have been done in less than 50 days.
In the final production we gained around 130 pods in the harvest day with a maximum of 6 seeds per pod. That gives an average of 9 to 10 pods per plant with an approximation production of 40 times the original sowed seeds (although the exact number of the produced seeds was not counted).
So quick, so productive!
Healthy Peas
Peas are nutritious with high levels of protein, dietary fiber, vitamins and minerals comparing to grains such as cereals'.
From the minerals' point of view, peas have a considerable amount of Potassium as the most prominent element, followed by Phosphorus, Magnesium and Calcium. Peas contain as well traces of Iron, Selenium, Zinc, Molybdenum, Manganese, Copper, and Boron.
Regarding Vitamins, peas are rich in the B group of them. Fresh peas have also A, C and K vitamins. As a large portion of these vitamins can be lost by cooking or canning, eating the peas fresh is still healthier.
Peas have low fat content as well. For instance, the dietary fiber content of raw peas is over 20% of the edible portion on fresh weight basis, while in contrast; white rice has just 1%.
As an optimum way to reduce the dependence on fatty animal protein sources such as meat, one can try to shift to; or at least put extra focus on, eating legumes and pulses like peas. The requirement of the majority of protein types essential for human body; in our daily diet, can be met by including adequate and balanced quantities of both pulses and cereals, as their proteins are complement to each other.
To say the truth, it might be hard for anyone to drive his meals far from meat or any animal based proteins. But instead of fatty food, indeed it is healthier to include adequate amount of legumes and pulses such as peas, lentils, and different beans in our daily diet.
For culinary purposes, peas are edible in all its growing stages, including edible white flowers, baby pods, fresh green seeds, as legumes with their pods, and as pulses with only their dry seeds. You can eat flowers and fresh green seeds with salads as well. So here in this article, I would like to introduce you a vibrant Libyan recipe.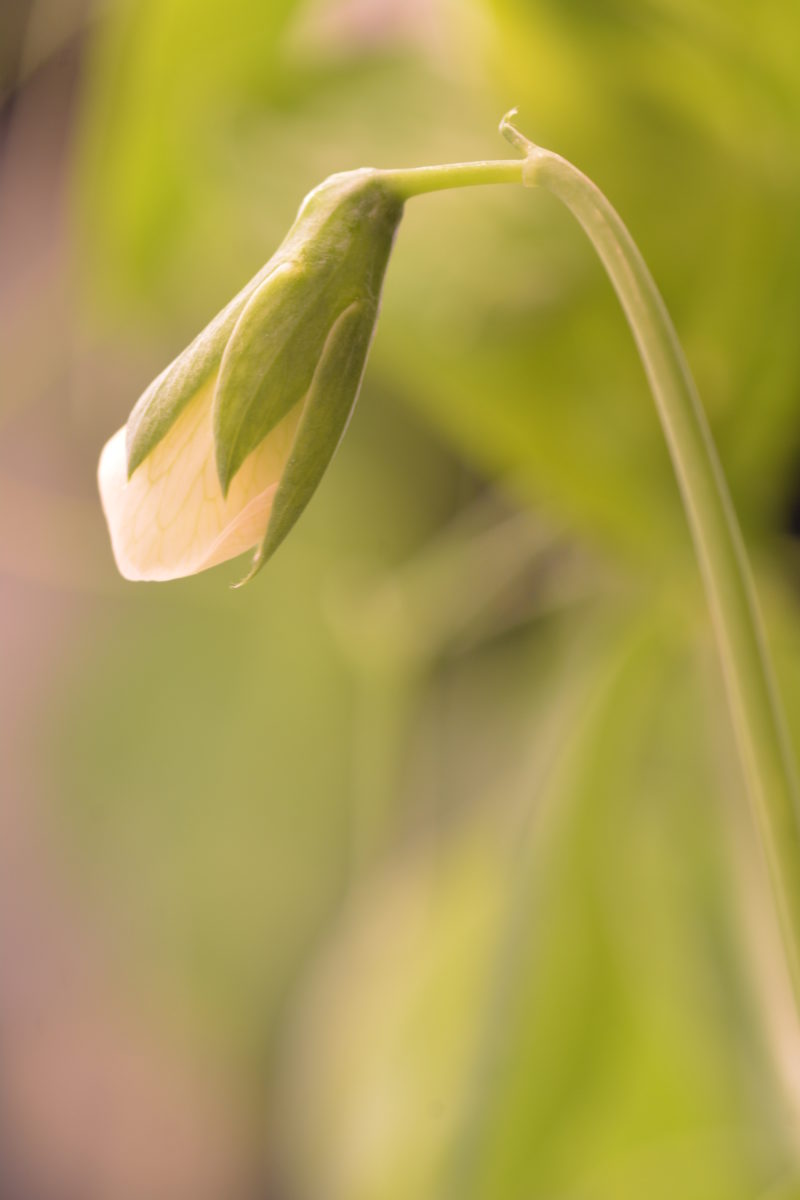 The beauty of Peas!
Libyan dynamic recipe of a Mediterranean fresh salad
This healthy recipe of a Libyan salad can be adapted depending on your preferences, vegetable availability, and season. Basic ingredients to serve each person can be just 2 mid-size tomatoes, half cucumber, and quarter of mid-size onion.
Now you can make your salad goes the following dynamic and healthy way:
Colorful, by adding cubed slices of carrots, ginger, or any vegetable you love.
Spicy, by inserting enough pieces of fresh green or red hot peppers.
Tasty, by mixing your salad with big spoon of olive oil and sprinkling little natural salt.
Aromatic, by adding pieces of a preferable fresh fragrant herb, such as parsley, celery, coriander, thyme or any herb you wish.
Rich in proteins by adding some soft fresh Peas.
Now enjoy your handmade Libyan salad!!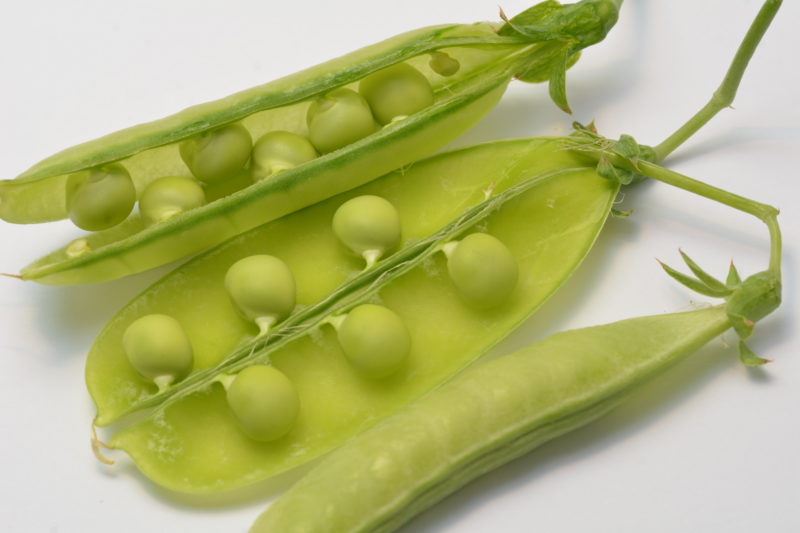 Soft peas are so suitable for a fresh salad!!
Broad Beans
Broad beans are member of the leguminous vegetable family as peas. Broad beans and peas have equivalent health benefits, as their nutrition content is very similar. Here, in this article, I would like also to share you the following images of our broad beans experiments by applying the light of Shibakwa LEDs.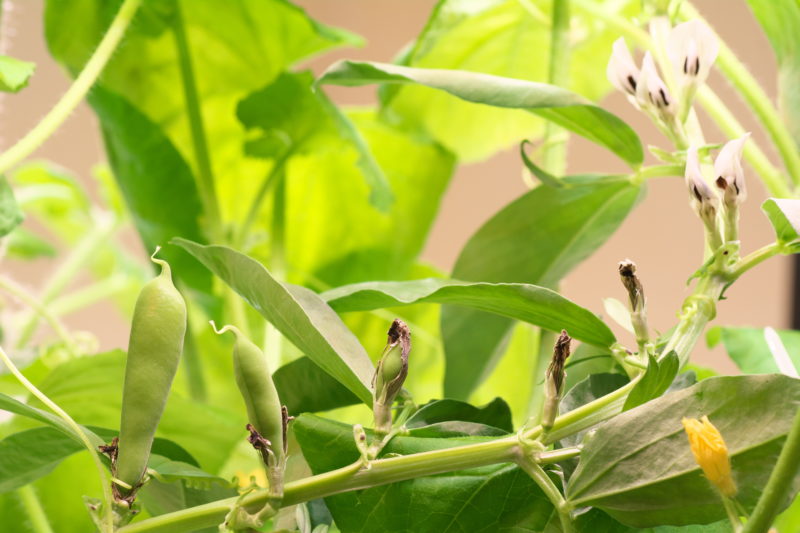 Broad beans family!! You can see clearly its growing cycle. So cute isn't it?
In fact, my town in Libya; Agelat, is very famous by being a large producer of Olives, Palm trees, fruits, and vegetables including broad beans in the whole country. My father got used to grow broad beans as well in our farm in the time of my childhood. Mostly we have been using their full legume in couscous; which is the main traditional and original food of Libya since thousands of years. It is my pleasure to introduce to our readers the couscous recipe in one of the coming articles.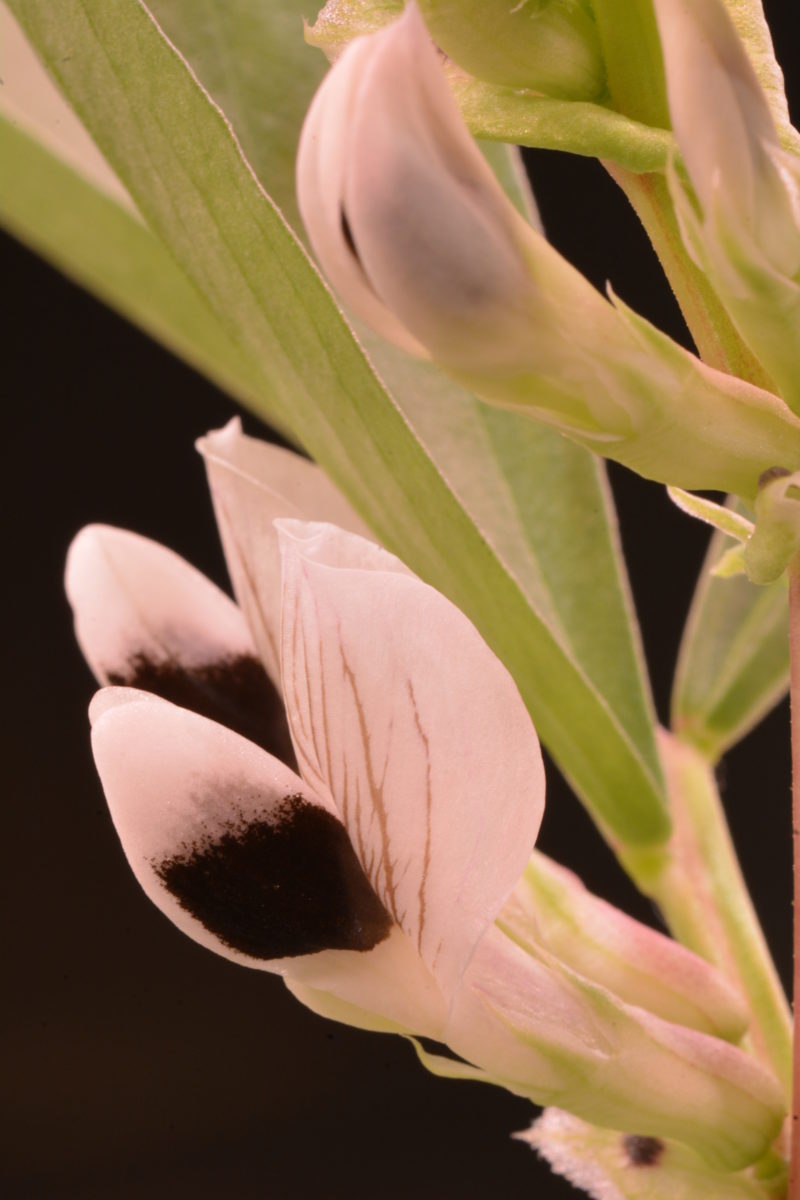 Broad Beans' blossom, simple, quiet, and energetic!!
Hopefully you enjoyed our Peas article. For the upcoming article, I am glad to tell you that the next guest will definitely surprise you!!