Dec 3, 2019

Shibakawa MFG also participated in the "9th Agriculture Week" held at Makuhari-Messe International Exhibition. Part3
Hello our dear reader.
I am here, back again to share you the 3rd part of our exhibiting activity information.
October 9 (Wednesday)-October 11 (Friday), 2019 "9th Agriculture Week", part 3.
Thank you again for visiting the exhibition booth at Shibakawa MFG.
We would like to write to you about our future "Spectrum Intensity Controllable LED",
which is still in the research and development phase.
Intensity control not only for the light as a whole
but of course the intensity balance control of every spectrum as well.
In Agriculture Week, we showed our guests how the intensity controllable LED
can be wirelessly adapted easily through a tablet device.
Many visitors were very interested in this prospective adjustable light Technology.
I was able to hear many new ideas of possible usage too.
There are various parameters controls the quality of plant cultivation
such as "light" "water" "carbon dioxide" "temperature" "humidity" and many others.
In fact, all of these conditions need to be optimized.
One of our tasks is to easily control and adjust light corresponding to any optimization needs.
At this exhibition, "Spectrum Intensity Controllable Type LED" was exhibited.
This "Spectrum Intensity Controllable" means making an "optimal light" in the growing process of any plant.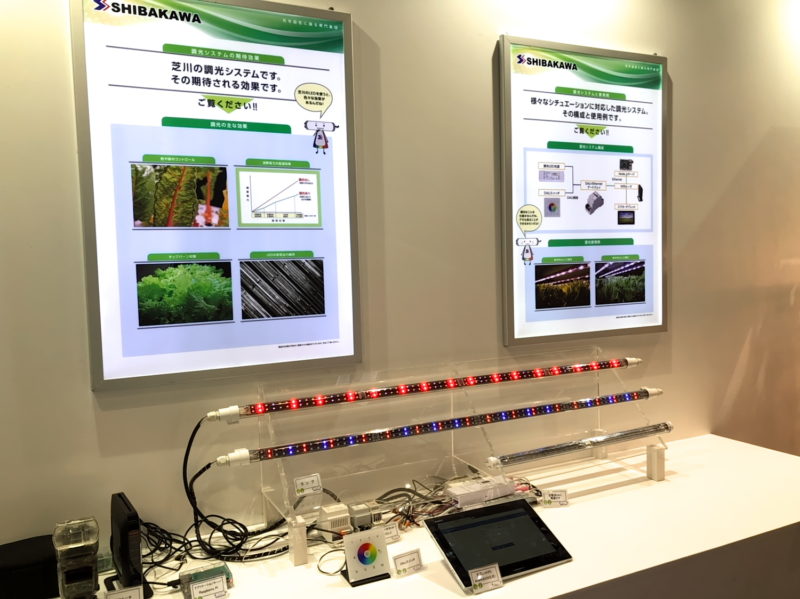 For example, adjusting the growth effective ratio of red and blue,
as well as adjusting the light spectrum intensity.
Here are some benefits of light spectrum intensity control
・ Contributes to measures against plant physiological disorders such as lettuce chip burn.
・ support to color control of leaves and fruits.
・ adjusting the taste.
・ strengthening the smell of fruits and herbs.
・ Optimal light control for specific plants or specific purposes becomes possible.
・ Measures to inhibit photosynthesis caused by excessive light (photoinhibition) are also possible.
・smooth light adjustment such as image reproduction of sunrise and sunset is also possible.
・ Reduces power consumption by reducing extra wavelengths
  and light intensity corresponding to the growing season.
・ Stable output of LED light quantity can be maintained.
・ For plant and agriculture research, it is not necessary any more
  to prepare several LED types with different characteristics.
In this way, the adaptation system can handle various situations.
Furthermore, by utilizing a wireless LAN network and a dedicated application,
Wireless and remote operations become possible with a PC, tablet, smartphone, or from any mobile devise.
In the future, we are planning to enhance this sophisticated technology
with its software programs so that any user can set his original conditions for his own purposes.
As you can see, there are many issues that must be achieved with
this "spectrum strength adaptable system".
We will continue our R&D to achieve a mass production of Spectrum Intensity Controllable LED lighting for
smart next generation agriculture.
Do you love to use this controllable light in your indoor cultivation system?
If so, please do not hesitate to contact us through our website.
Looking forward to see you in the next article!!