Sep 7, 2020

Delightful Carnation, Beyond Imagination !
 The edible Carnation flowers
In this Article, I would like to show our dear readers how Carnation flowers can grow so beautifully with Shibakawa LEDs.
Carnation flowers are native to Mediterranean area and have linear leaves, with a cyan hue, which are growing on a slender stems. The average plant height goes up to 30 or 40 centimeters. The Carnation flowers typically made up of five petals with frilled edges or fringes. Moreover, Carnation is a prolific and ornamental bloomer, so a favorite in gardens and landscapes. Now, through the light of Shibakawa LEDs, you are capable to have a Carnation hydroponic garden even inside your home. You can take a Look to the attached image from our research laboratory and discover yourself how wonderful it is. A doted and wavy white belt in the middle of each flower can be seen clearly. So attractive, isn't it?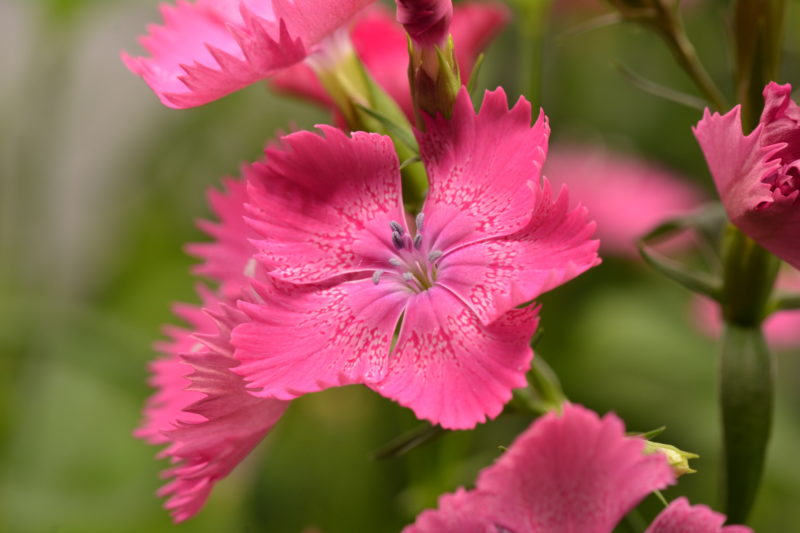 How astonishing!! How delicate!!
In outdoor conditions Carnation flowers have long blooming period from late spring to early autumn. By using Shibakawa high-tech LEDs, these flowers can be seeded and grown in any season around the year, even in the late autumn or mid-winter. Carnation; in the shown image, took 35 days from seeding till the start of its profusely blooming period. In fact, in indoor conditions; and with care, they can bloom all year-round.
To enhance your culinary sights, the use of edible petals of Carnation is a fragrant, subtle, and adventurous way to elevate the look and taste of your salads. In fact, its applications are versatile, unlimited, and beyond our imagination. You can utilize them also to decorate cakes, meals or as herbal tea. In winter, you can even try to steep the whole flowers in water to warm your feet before sleeping, while enjoying their sweet aroma.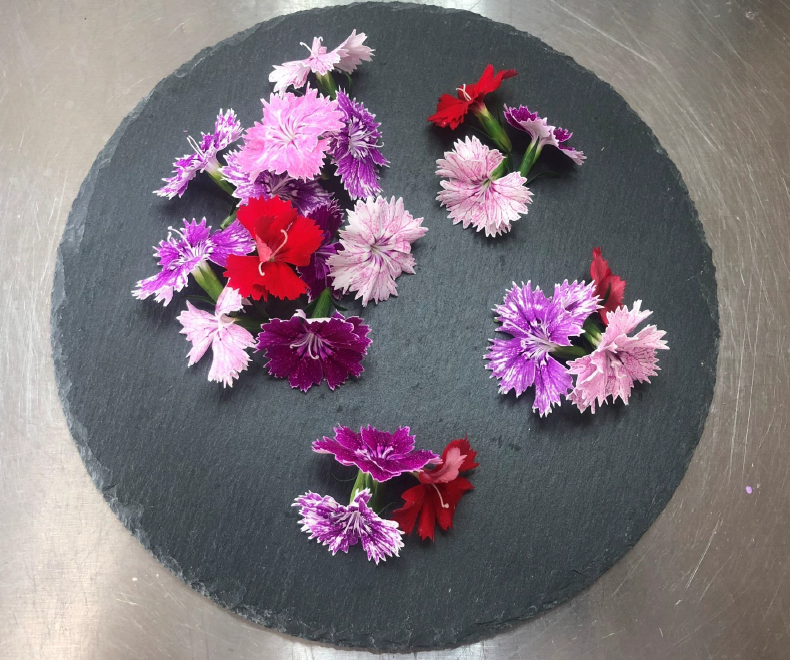 Fully Edible Carnation Flowers.
The second image illustrates some Carnation flowers prepared to serve the incremental demand in many stylish Restaurant and Hotels around Japan. These flowers are cultivated in "Yoza Vegetable Garden" located in Okinawa Islands, and grown using Shibakawa High-Tech LEDs.
Is a strawberry fruit or vegetable?
For our readers who read the article of April, hopefully they could have some ideas about the answer of this question. Here in this section I would like to share you my humble opinion. Wishing that, it can be so useful to you.
Scientifically, the fruits have been defined as any seed-bearing formation that developed from the ovary of a flowering plant; whereas vegetables are all other plant parts such as roots, stems, and leaves. Hence, scientifically strawberry is a fruit. Nevertheless, with this definition even hot pepper will be sorted as a fruit!!
In my childhood, I classified fruits as the eatable harvest of woody plants as they are perennial. Meanwhile vegetables are the eatable products of grassy plants, which normally die at the end of the growing season. With this childish classification strawberries become kind of vegetables.
In my current opinion, the decision; of whether the plant harvest is a fruit or vegetable, is yours. They are fruits, if you can eat them fresh or as desserts. Else; if there is a need to cook them or eat them merely in salad then certainly they are vegetables!!
In Japan, nowadays many vegetables became far sweeter than any time before. As an example, if anyone closes his eyes and has given our laboratory's mini-tomatoes to taste, then if we asked him/her to guess whether it is a fruit or vegetable? Most probably his/her answer will be "fruit". Perhaps, we should have thought some plants can be vegetable and fruit simultaneously.
Now, I believe the wisdom in all of this is how to ensure we are offering to our body and mind the necessary diverse range of nutrients. In other words, how you can make a balanced mix in your diet between fruits and vegetables as nutritionally they are not equivalent. For instance, Fruits have higher levels of sugar and calories, while some leafy vegetables contain extra carteniods. Even though, both are rich in vitamins, minerals, fiber, and antioxidants.
You may have different approaches. That is excellent too, even myself sometimes for extra wisdom, I love to go deep further; enjoy looking into the Quran, which revealed around 1400 years ago, and it is mentioning about plants and fruits in amazing ways in many of its chapters.
The next Article
Simply, the forthcoming article will contain our laboratory's peas; the green beans with an edible flower flavor!!