Apr 23, 2020

Shibakawa High-Tech LED and Strawberry
A reader from the Siberian Pavlodar city of Kazakhstan sent me a message just today,which includes a question regarding the previous article.The reader's concern is about the hydroponic systems and the process of growing tomatoes using the Shibakawa's Inter-Lighting technology.Considering my respective reader's kind request; in the diary of the coming month,I will write about that in detail.
This month diary article is dedicated to my research activities on strawberries using Shibakawa's high-tech LED lamps.
In general, conventional agriculture faces the issues of season extension challenges to meet consumer demand for year-round availability, and in the same time,experience confronts with pests and the hardness of obtaining appropriate and sufficient harvest labor.
Increasing consumer demand for berries, climate change-induced weather variability,high pesticide use, agriculture policies, and land availability do negatively impact any regional production.Thus, the adaption to the new agricultural hydroponic systems becomes crucially necessary.
Shibakawa's high-tech LED is facilitating this adoption through continuous research,development, and innovation.We already have been able to make the year-round vegetable-fruit availability possible.Better space allocation, saving water, climate control, pests and disease free,and less labor are some of the advantages of the new hydroponic system industry.That in turn adds a considerable amount of production to the world agricultural map.Practically in this regard, Shibakawa high-tech LED lamps can be installed as an Inter-Lighting that supports the growing of flowers, Tomatoes, and any fruits or vegetables in the green house environment.
Furthermore, these lamps are able to substitute 100% the light of Sun and efficiently accelerate the growth of any indoor hydroponics plants as well.In this article of April, first of all I would like to thank our Siberian reader so much indeed and all of you for your careful reading and following up my articles since September of last year.This time, I would like to share you my research on strawberries.Talking about strawberry, although it is one of the most valued fruit worldwide,modern cultivated varieties exhibiting larger fruits with intense color and prolonged shelf life.
But yet, these valuable traits were attained at the cost of the intensity and variety of the aroma of the strawberry.In connection to this, wild strawberry display smaller fruits and fewer yields compared with cultivated varieties; but they accumulate broader and augment blends of aromatic volatile compounds.As a fact, the large diversity and strength of aromas is occurring in natural and domesticated plants.
My research on strawberries was focusing on how Shibakawa LED's different levels of Infrared Red influences the plant growing speed, flowering frequency, its fruit size, taste, color,and fragrance.
Simultaneously, to enhance my research, I utilized diverse types of strawberries such as Aki-hime,Seriinu, Enjeru-Eito (pure-8), Ai-berry (love-berry), and wild-berry.So hopefully this article can be somehow attractive to you.In each one of these types, many plant aspects will be stated, imaged, and illustrated such as leaves,flowers, and fruit's color, formation, size, fragrance, softness, and taste.In fact, considering the leaf and flower difference, in my varieties I noticed that only wild berry can be recognized from other types. The following 4 images show that.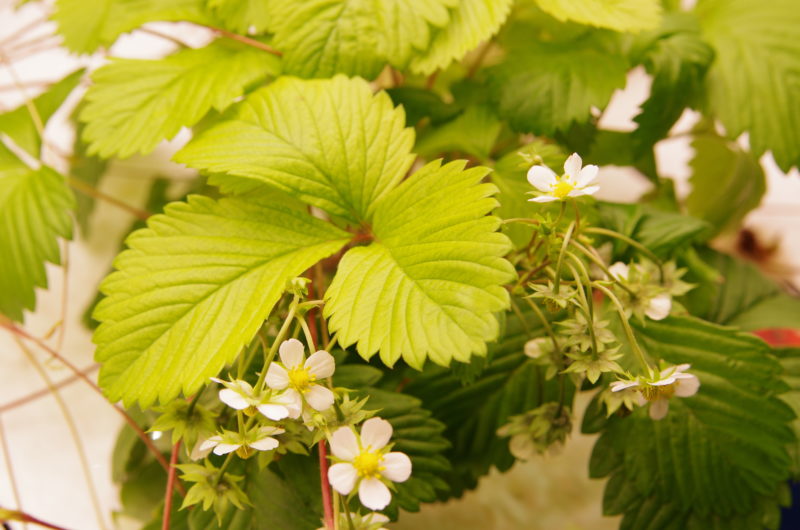 The leaves and flowers of Wild berry.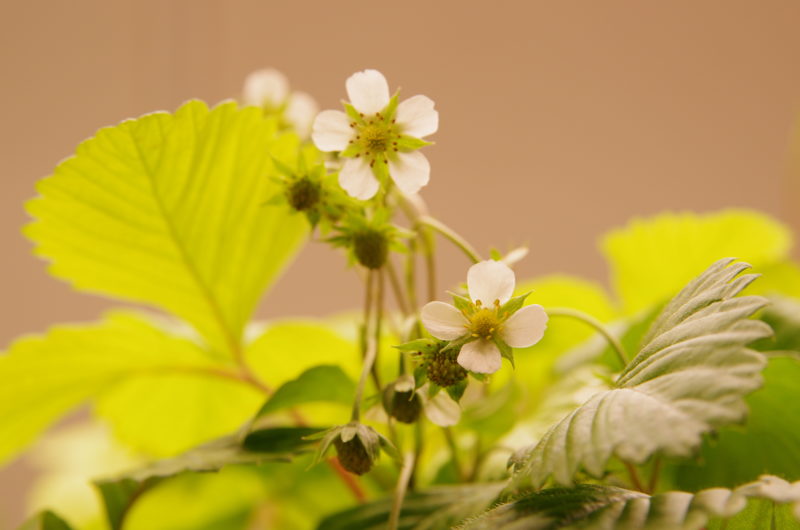 Only Wild berry can have a flower with 4 petals and 4 distinctive sepals.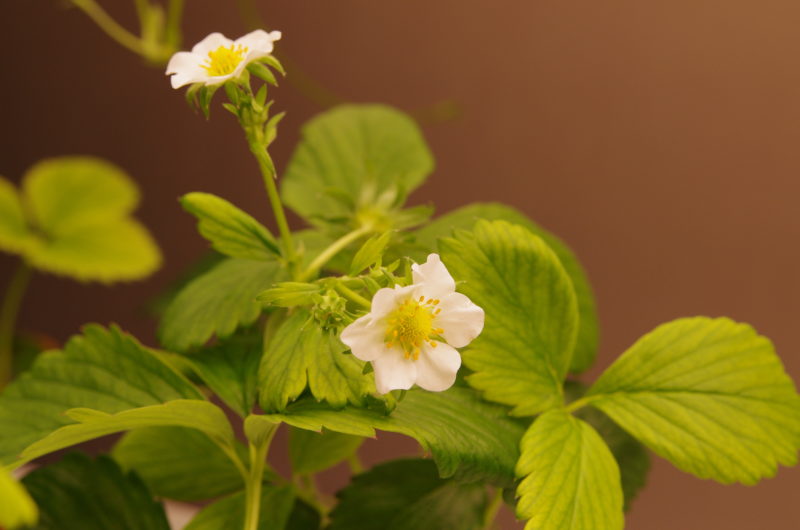 The leaves and flowers of Love-berry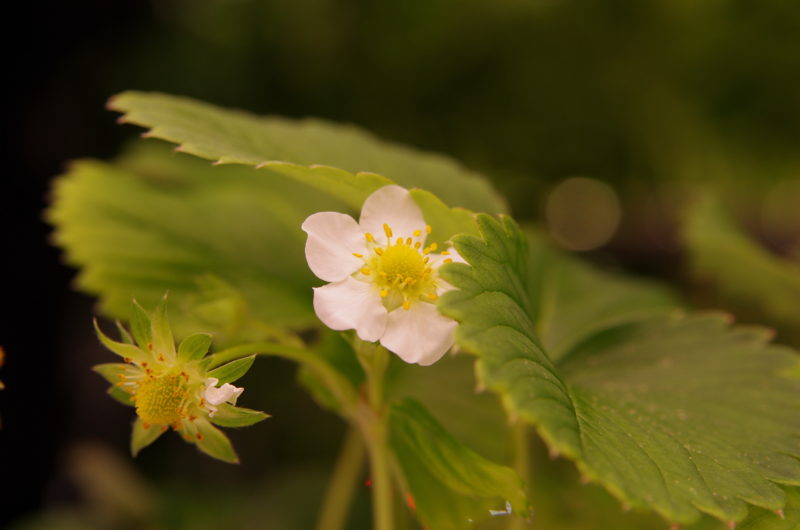 Seriinu flower, as you can see, is so similar to Love-berry's.
Starting from Aki-Hime strawberry, Let us now look to the fruits of each strawberry type with their internal and external characteristics.Externally, we take a glance to color, size, shape, and smell. Internally we test the taste and softness.
Aki-Hime Strawberry
Aki in ancient Japanese means beauty, and Hime means princess.So it can mean the princess of beauty.This type of Strawberry is developed in Japan in 1992, and then it became widely popular.Externally, it has a gloss red color of the peel, mostly with a conical shape and normal strawberry size.But unfortunately, no aroma could be detected at all.Internally; as for taste and softness, you can enjoy a fully reddish flesh, which gives you acidity-free,watery, and intensive sweetish impression as you smash it between your teeth.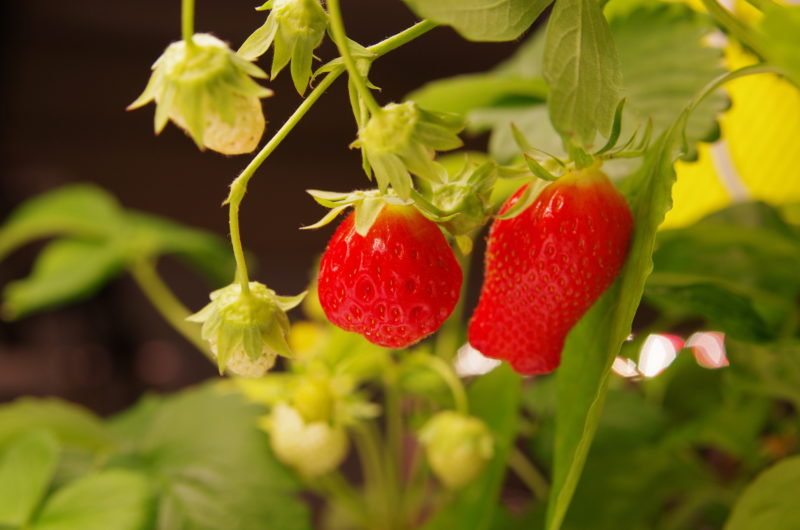 The Princess of Beauty, Aki-Hime, can have different shapes even with no availability of the magical touches of the honey bee.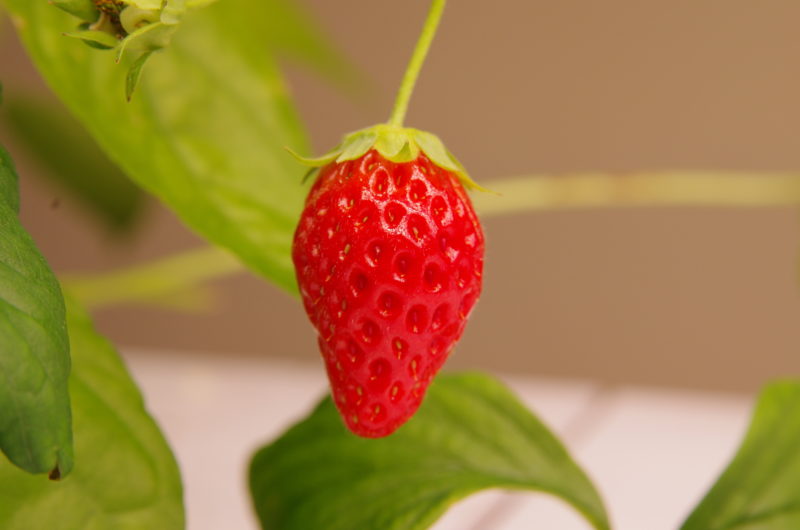 The gloss red and the conical shape are the main features of Aki-Hime.
Seriinu Strawberry
As you can recognize from its image, externally Seriinu has a larger size with a calm red color.Actually, its taste is like the normal strawberry obtainable in the market.The watery and softness can be felt while sensing its acidity flavor.But similar to Aki-Hime, no aroma was available.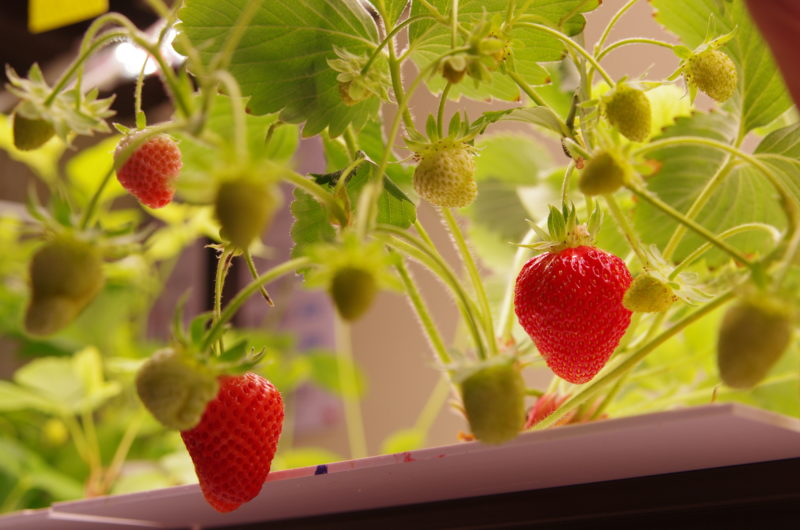 A larger size, usual taste, and much yield are the main features of Seriinu
Enjeru-Eito Strawberry (Pure-8)
Externally, the combination of shiny white color peel and the spots of the tiny red seeds offer this strawberry an extreme beauty.The big size with a noticeable strawberry fragrance makes this strawberry even more attractive.Internally, a white solid flesh with a taste of peach or a mixture juice of pear and kiwi is the Enjeru-Eito's special feature.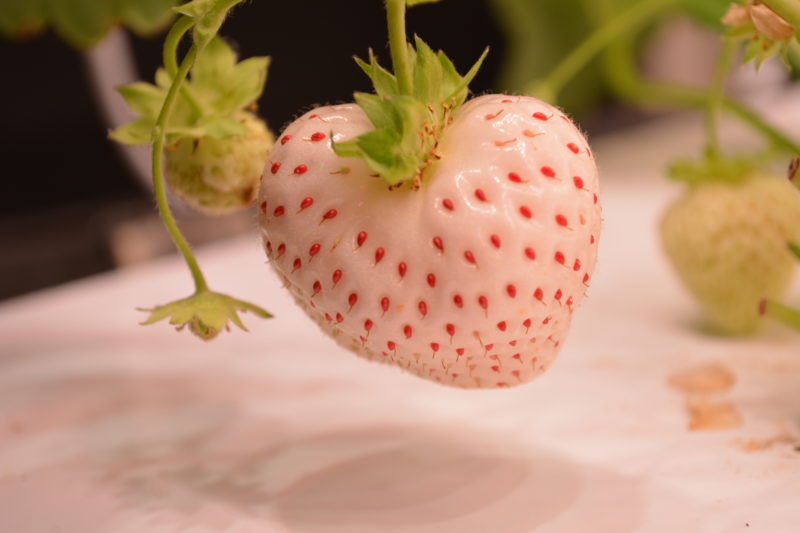 The romantic figure of Enjeru-Eito
Wild Strawberry
On one hand a moderated red color and high level of acidity can be identified as a part of its noticeable characteristics.On the other hand, we can convey that, in spite of its small size, an extraordinary strong aroma among other strawberry types can be easily distinguished while approaching the nose sense of smell.Practically, the fragrance of this strawberry is so intense that a few ripe wild strawberries can perfume an entire room with a penetrating Libya's Mediterranean fruit scent.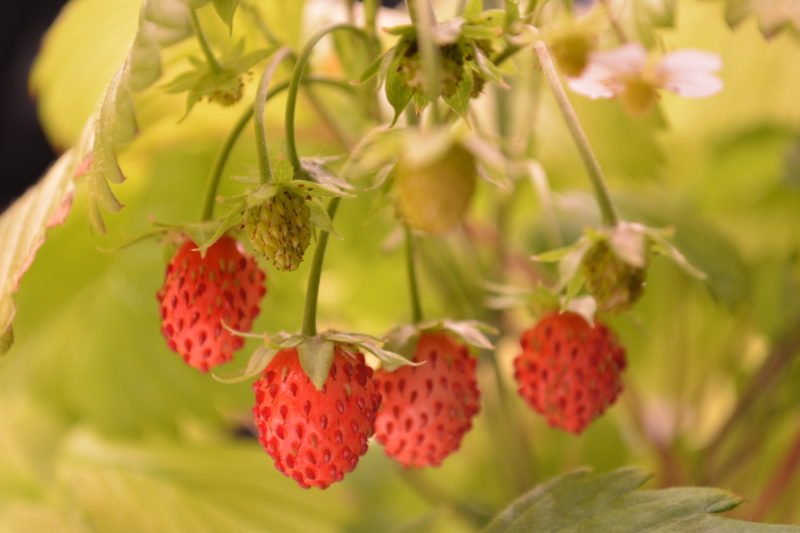 In spite of its small size a strong fragrance and high acidity are the main features of wild strawberry.
Ai-berry (Love strawberry)
It is so similar to Seriinu but just smaller in size. It has nothing special in fact.
The Strawberry Delight
Here is how the internal flesh color and a sense of delight can be seen for the first 4 types above.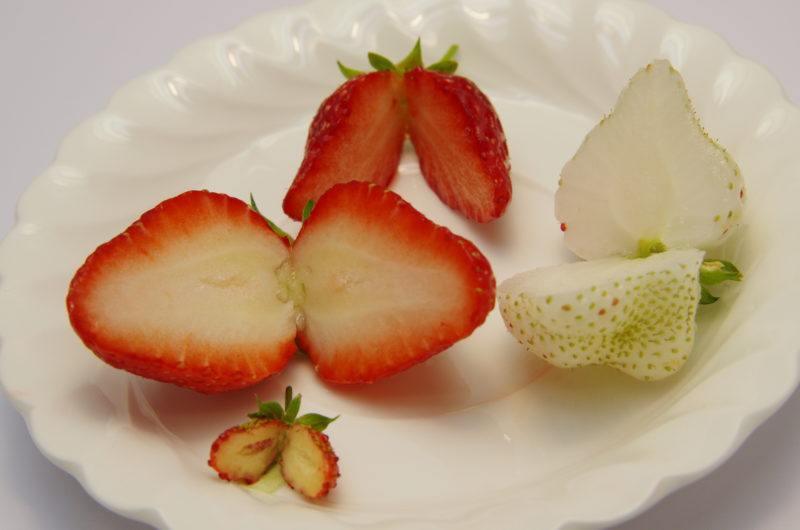 Right of image: Enjeru-Eito, Upper: Aki-Hime, Left: Seriinu, Lower: Wild strawberry
In few Words
Briefly, I can say that, if you would like to enjoy strawberry as a sweet fruit take Aki-Hime.If you want to enjoy strawberries in cakes, jam, bread, etc, then just utilize Seriinu for acidity taste and wild berry for the fragrance.Also, if you interested in the romantic beauty of the strawberry with your husband/wife,or for a special guest, or as an elegant present offer him/her the amusement of Enjeru-Eito strawberry.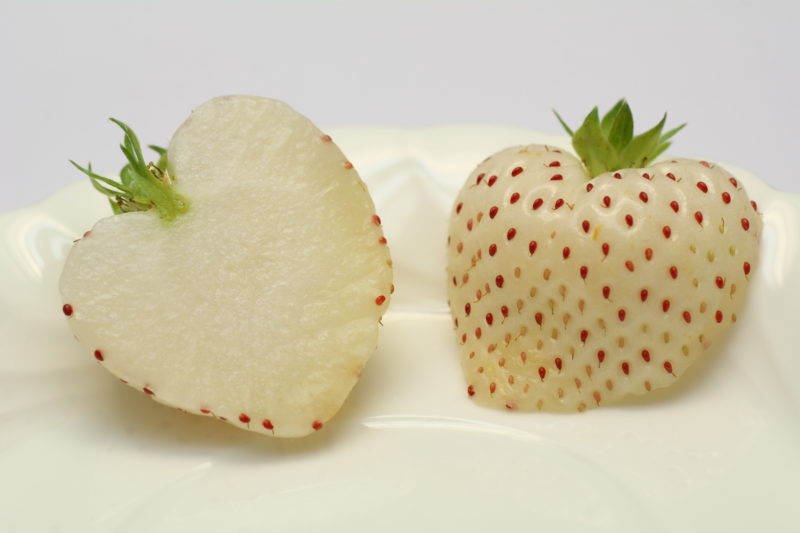 It looks like a heart isn't it? Close your eyes and taste it, then try to guess whether it is strawberry or peach!!(Enjeru-eito)
For the coming golden week article
At the end of this article I would like to challenge our readers with this question: Is Strawberry a fruit or a vegetable?
In the coming article of the golden week in Japan, the golden tomatoes will be in the menu.It will include also, one of my research challenges, and the answer to our Siberian reader concerns.