Sep 16, 2021

Innovative Watermelon Delights!
Deep greetings to our Dear Readers!!
Long time passed since our last article and I am so happy to be able to deliver you a new interesting and beneficial article again. I just hope the Corona situation can become controllable soon with the availability of vaccines and health care measures around the world. I hope also our readers could manage the high weather temperatures in these days as well. This year even in Siberian areas the temperatures reached around 40 °C. Of course Shibakawa continuing developing efficient lights to successfully accelerate and improve plant growth and harvests and safe our earth as I wrote at the end of this article.
In this article, first we will deliver our readers the surprise and show by images, how we succeeded in growing melon and watermelon totally indoors with Shibakawa high-tech lights. Afterwards, I will share our readers a story from my childhood related to water melon from the Libyan Mediterranean coast. Finally, a proposed method of saving our Planet will ends this article. So let's go on reading!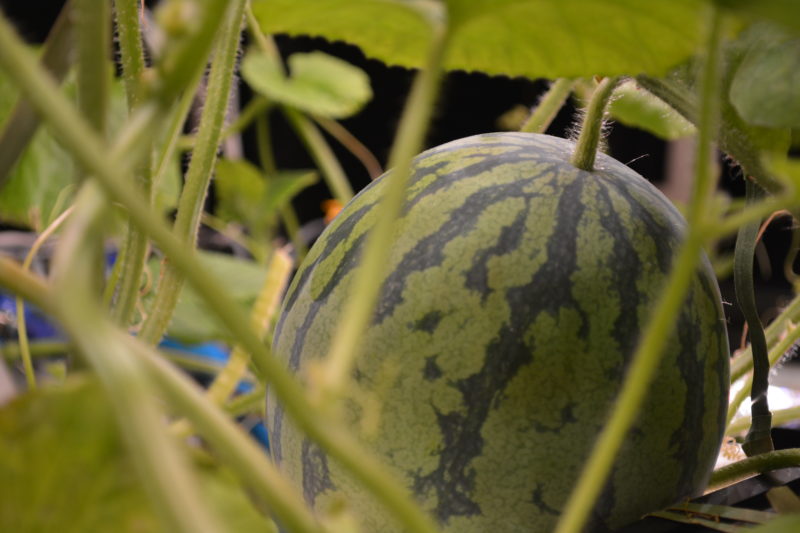 Image from our research lab: Success of hydroponic and indoor growing of water melon with Shibakawa high-tech lights. Surprising isn't it?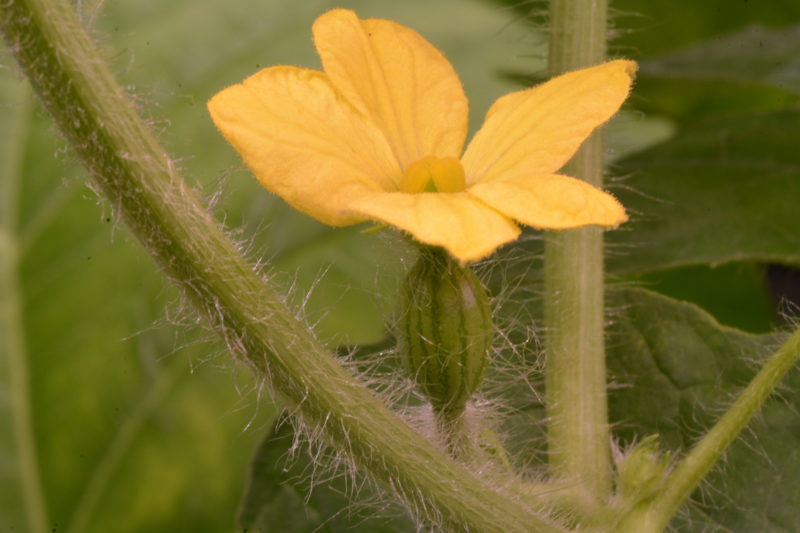 29 days after seeding, this is the 1st bloom. The same flower became the watermelon fruit in the first image above. Cute water melon stripes can be seen clearly. The pollination is done by hand, as no available honeybees inside the laboratory.
Melon & watermelon: An overview
Melon and watermelon are annual fruit plants of the gourd family similar to cucumber, zucchini, and pumpkin. They have large leaves, with long petioles, and tendrils with diclinous yellow flowers as shown in the contained images.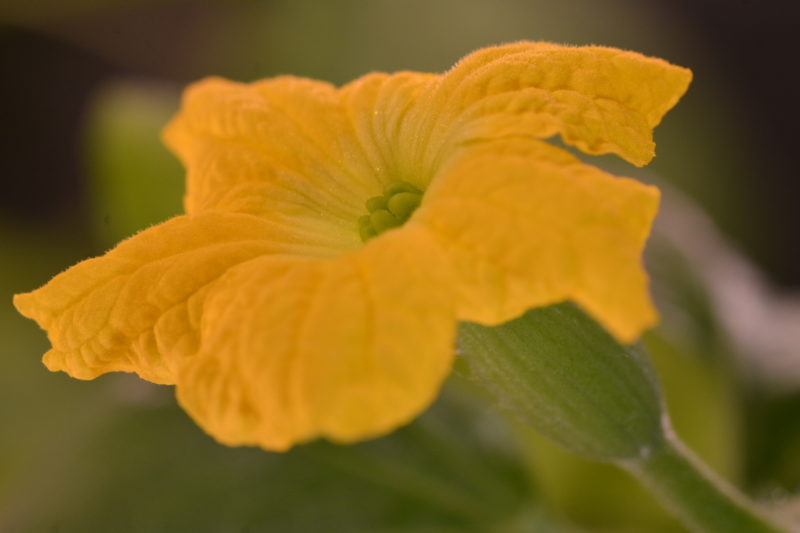 The beauty of a melon female flower on its full blooming day. How you feel its attractiveness?
Melon Varieties
Melons (including watermelon) are normally summer time refreshing delights with elegant aroma quite unlike anything else. Thousands of varieties exist around the world. They also vary greatly in size, shape, surface texture, odor, flesh color, sugar content, flavor and fragrance. Some varieties are grow-able in low temperature environment, have higher resistance to plant diseases, and some even have longer shelf life after harvesting. The start of growing season also varies too depending on the variety as follows: Early ripen of late spring, early summer, summer, and autumn. But undoubtedly, with Shibakawa lights, melon and watermelon are grow-able all year-round.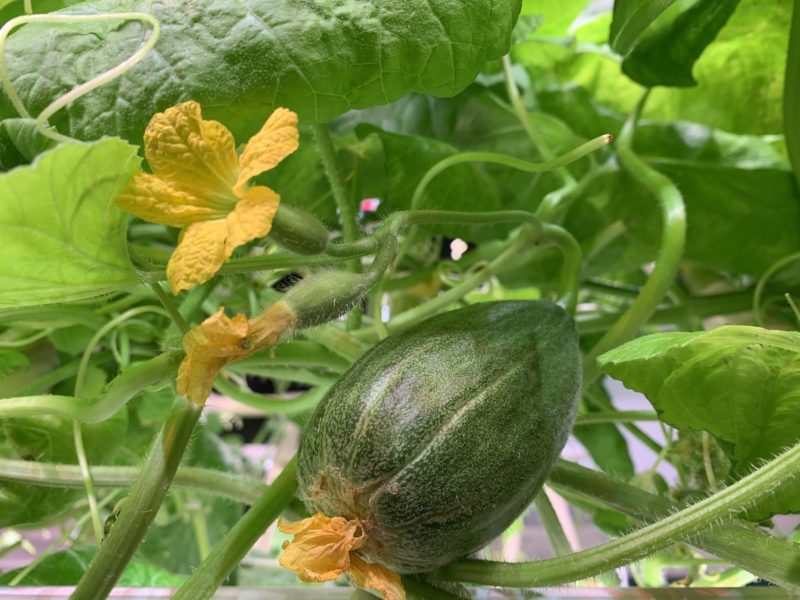 This image shows one of 3 cantaloupe fruits obtained from growing one plant. Cause of the hit of powdery mildew leaf disease, it had no chance to ripe properly. Its seeds were used to grow next generation melons.
Melon and watermelon are rich in vitamins, minerals, choline, antioxidants, and phytochemicals. Although both of them have similar minerals such as calcium, magnesium, potassium, phosphorus, and trace minerals such as manganese, zinc, selenium, iron and copper; they still differ in the vitamin content. While Melon has higher value of vitamin C, K, B3; watermelon have large amount of Lycopene and vitamin A. Lycopene in watermelon is still higher per gram even than that of Tomato. Particularly, the watermelon seeds are edible and excellent source of many minerals as well.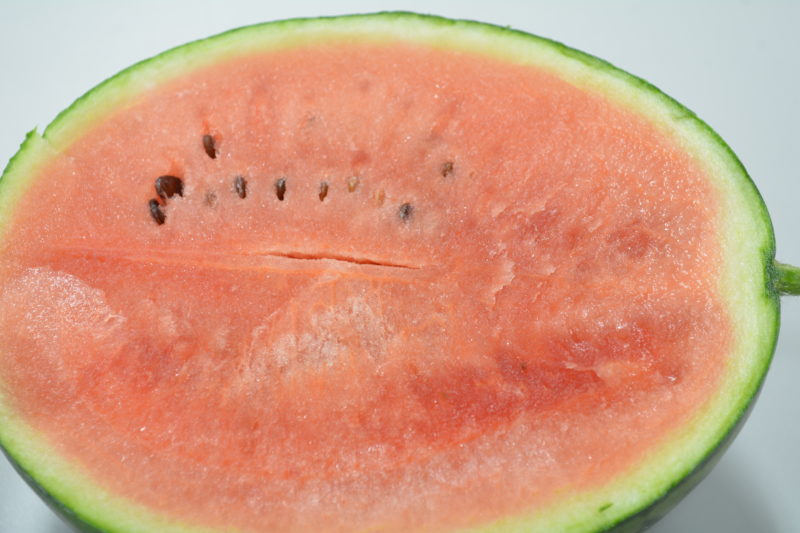 It is the same water melon of the first image above. It was really so delicious! You may try to grow such in your home as well.
Water melon & childhood Story
In our childhood, we get used to go swimming with our families in the nearby coast of the Mediterranean Sea, especially in the mid of summer as the temperature raises over 30 °C. As Libya has the highest temperature record of the planet with 58 °C. Normally we go to beach together with other 2 families. All necessities are prepared and loaded in the traveling cars from the previous day. As we arrive to the beautiful greenish-blue beach we kids just jump from cars to the cool water. While fathers and elder brothers prepare the tent and getting things out of cars, mothers and sisters do start to prepare the big lunch of Imbakbka with lamb or goat meat over a natural wood fire. They also start preparing the aromatic Libyan bubblous mint tea. While we kids are swimming under the unsparing sun, we make a lot of games, such as swimming deep and trying to catch the legs of each other or see who swim faster, or who can stay under water for longer and many other games as well. In 2 to 3 hours, as time passing fast, and we became extremely hungry and thirsty suddenly mothers call us for the spicy Imbakbka. With the extra thirstiness from the spiciness, and over sufra; a 1 meter diameter big open plate, giant watermelons were already cut into large slices. Here is the real enjoyment; kids can feel a restorative power to swim once again after their face being buried into 2 or 3 of these slices while the juice is dripping down their arms. After looking to the romantic sunset we all back home, make showers, pray and deep sleep.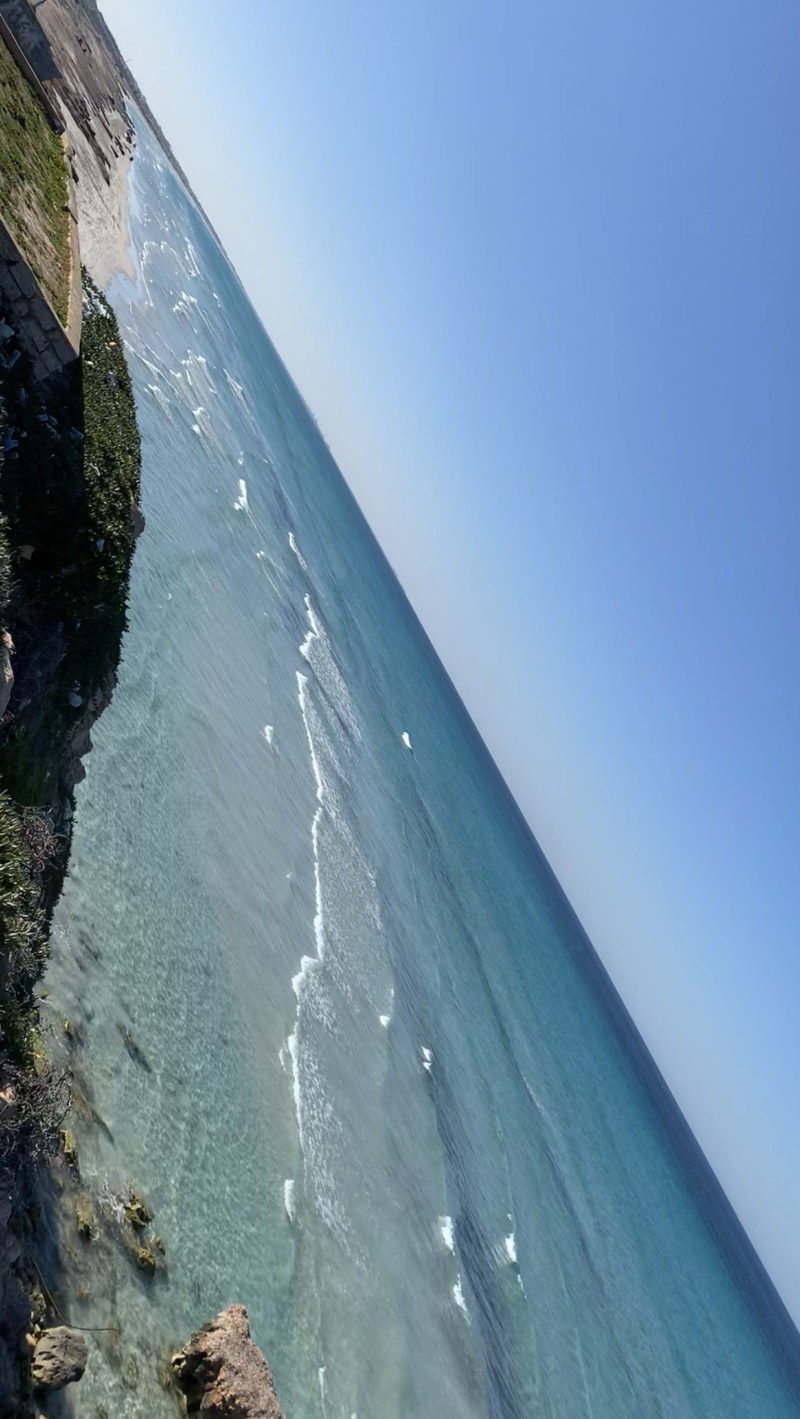 This is the Mediterranean coast nearby our home in winter time. In summer it becomes more colorful and so attractive.
Cooling up our boiling Earth
The rising of temperatures have become clearly visible around our globe, especially this summer. In fact many people thinking that this is happening just because of the consequences of the earth's green house effect. Yes that is partially true as the concentration of CO2 has increased by approximately 44% in the period from the beginning of industrialization up until recent years. But there is another fact even more important. It is the desertification in North Africa; as in Libya, that caused by the lack of rain, by the shortage and drainage of natural water reservoirs under the ground, and by the invasion of salty seawater into these reservoirs. In my childhood the rain was very strong and continues for several months along its autumn and winter season. At that time, the rain fed agriculture; where farming is relying on the rainfall for water, was very popular and profitable as well, the water level in water wells was so close to the surface. Moreover the spring was like a paradise, flowers everywhere covering even a part of the desert. Now everything is different, a winter with no rain became a norm, the rain fed agriculture is almost disappeared. Moreover, the water in water wells became either far to reach or salty or drought out. Not only that, in the past the summer has only around 3 of very hot days at a temperature over 40 to 50 °C, but this year these temperatures continued for more than a month. It is a kind of tragedy. One of the essential solutions; I do think, is to desalinate the seawater and insert its drinkable water back into the drained natural water reservoirs as done successfully in the agricultural areas of California. Another mutual solution is to perform forestation with rain based palm trees, olives, and other perennial trees like figs and grapes in the drought agricultural areas that already have been hit by desertification.
In this sense, all efforts to improve the efficiency of lighting systems; for buildings, as well as for developing the agricultural sector, are required and can provide a significant contribution to safe our earth. There is no time to lose, and we must devote ourselves with vigor to saving our planet. Shibakawa is developing such technology day by day, where I hope we can make a valuable contribution to our environment actively as well.
Next article
In next article, I would like to introduce new type of plants again. To know more about Shibakawa high-tech LED lights or if you would like to ask me any direct questions please don't hesitate to send us email through the link "shibakawa.co.jp/en/inquiries". Of course we will be so glad to support you. If you are living in Japan, I would like invite you to visit our booth in the 8th Exhibition of Next generation agriculture expo of Tokyo from 13th to 15th of this coming October.