Jun 3, 2022

Turnips and Truffle Hunting
Turnips and Truffle Hunting!
Welcome back our Dear Readers;
First, I would like to present you a new article with surprising hydroponic guest. As shown in the following images, Turnip will take the top course of our menu. I will share you an attractive childhood story of mine as well. Mysterious plants with their rare Libyan dishes will be introduced afterwards. Finally, I will end this article with a spring flavor, as the flourishing Sakura front is still passing along the Japanese Archipelago. Hence let us start with our Laboratory Turnip experiment!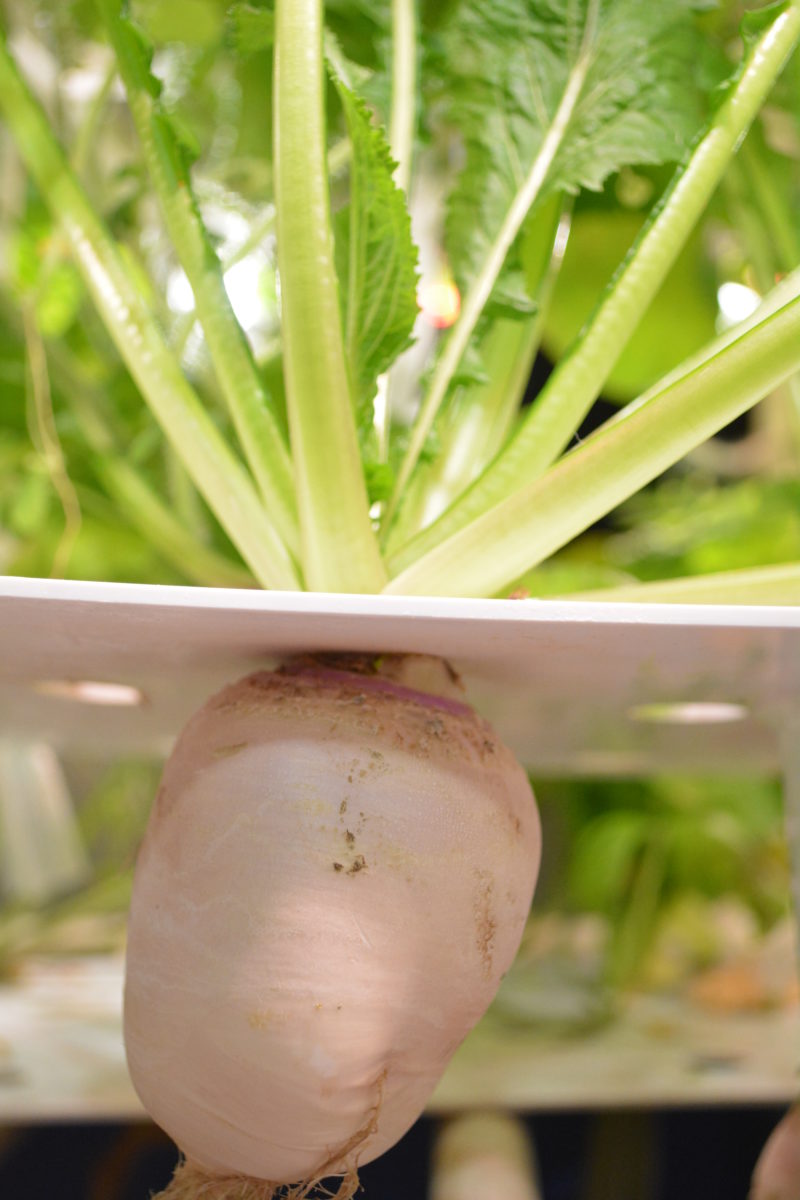 This bulb is grown inside water, while leaves are energized by Shibakawa High-Tech LEDs
Turnip is part of the Mustard vegetable family, such as cabbage, cauliflower, broccoli, kale, and African mustard "Aslus" grown in Libya. They grow in temperate climate areas around the globe.  Some of these family plants used to produce vegetable oil such as mustard oil and canola flower oil. In fact the Turnip flower is almost identical to that of canola, with same color and structure.
As the first image shows, the bulb and green leaves are growing well. When growing in hydroponic environment, you can choose where you want the bulb to grow, whether inside or above water. Although it is observed that in water, the bulb size grows bigger. The second image shows 2 other different growing phenomena. One bulb fully grown above the water, while the other grown with 2 halves, the upper in air and the lower in water. One advantage of growing Turnips hydroponically is that you can have a closer watch to the growing cycle of bulbs and pick them at the best size and time that fits your menu needs.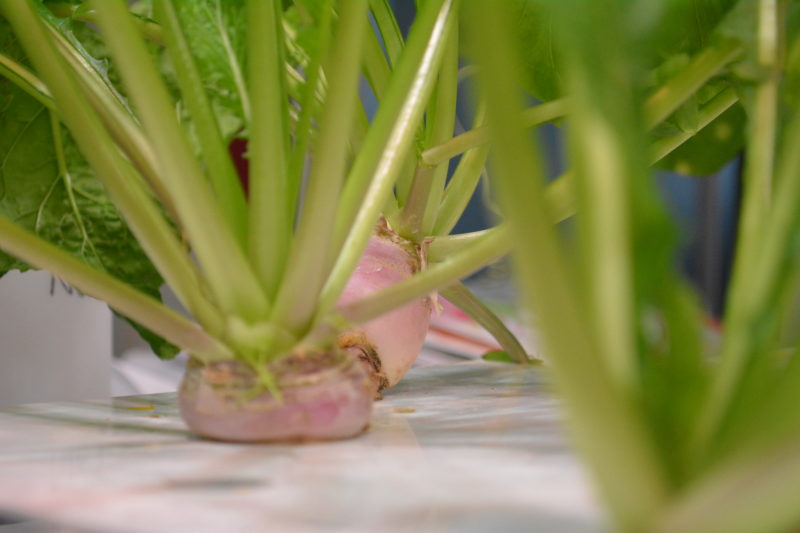 The bulbs can be grown fully or partially submerged into water, or even out of water. The peel turn to pink as exposed to light.
Health Benefits of Turnips
Beneficially, beside a large amount of vitamin C, Turnip bulbs contain many minerals mostly in small amounts such as copper, manganese, magnesium, potassium, iron, calcium, zinc. Actually larger amount of minerals with different vitamins; such as A and K, goes to greens. For example, 100 gram of bulbs offers third of the daily needs of vitamin C; while same amount of greens offer more than 100%. Practically, the precise amount of minerals and vitamins in Turnips varies depending on soil or hydroponic conditions in where they are growing.
For Preparation and serving, Turnips and its top greens can be used in raw salads and in cooking too. Try to choose a young Turnips as their bulbs are sweeter and their greens are softer. Young Turnips do not require peeling as well. The young Turnips have almost no yellow leaves and the bulbs are firm and have no holes or clear internal white lines. The raw slices of baby Turnips can be added to cherry tomatoes, green pepper, cucumber cubes with olive oil and little natural salt to offer a delicious appetizer.
Truffle Hunting, A childhood Adventure!!
The elementary pupils' school year starts around September and ends sometime in May. Beside the long summer holiday, we enjoyed winter vacation in the first half of February.  Actually it is a nightmare for many pupils as we get used to receive very heavy home works in every subject we had. On the other hand, vacation gives pupils great experience; it is our family trip for a special open air picnic. As in summer our people go to have family picnics on the Mediterranean coast beach, they also go to internal Libyan area of Jefara plain (Sahal Ajefara) where; after winter strong rain, this large area become an endless land of flowers spreading along 10 of 1000s of square kilometers.  At that time, it was a real paradise and natural resort on earth.
Here in this occasion also we go with other 2 or more families of relatives, after filling our camping cars with natural wood and all day necessities for our camping and food cooking. Cars go as a line to our rain-fed agricultural lands with a depth of around 40 kms southwest into Jefara plain. This time no need to use tents as we camp under the shades of any available big tree on that huge open land.
Upon an early morning arrival, we immediately help downloading carpets, water, tools, and other things from cars. In a short while after our families begin cooking Imbakbka on a natural wood fire as well as the Libyan bubblous mint tea, we kids start enjoying our adventure. Girls mostly go with their elder sisters for collecting young flower stems of Aslus and uprooting the Rozy garlic. We boys go with our experienced elder brothers for the hunting of Mason honey and Truffles! As we never use any kind of animals for hunting, we challenge ourselves of who can hunt more quantities or larger sizes of these truffles. Truffle bulb of our areas has a brownish pink peel and beautiful internal pinkish white color. When fresh; truffles are so soft and tastes as nothing else. You will just wish you can eat them endless.
The mason honey can be found as a mud made honeybee houses on stands or attached to some plants or any available rocks in their forage range area. Often, this mason honeybee nests in a large empty snail shells as well. Although the amount of collected honey is little; but you may not find any honey tasting more delicious or fragrant.
At mid day, our families call us for lunch. While enjoying the spicy Imbakbka, we talk about next steps and make the rest-of-day plans. Partially, we help our families to cut and collect varieties of grass, plants and flowers for our sheep and goats those living in our home farm (see the fifth image of Jan.2020 article). Then load the collected plant varieties into our vehicles. We take a look also into the grown wheat and barley of our rain-fed lands and help fixing or replacing the wood stands of their simple fences. Afterwards, we continue Truffle hunting in new areas on new directions that differ from morning. Our expert uncles sometimes show us some of truffle hunting spots where you can see above the ground even their yellow weird tendrils.
As time passing fast, with short winter days, our families call us to get into cars to back home before sunset. In those areas, night is not safe for children with the existence of wild animals like wolves, foxes, and poisonous snakes and scorpions. In the way back, we love to ride on the open back of our camping vehicles to enjoy max the fresh aromatic air, the beautiful scenes of flowers, wheat fields, and the extreme romantic scene of the sunset.
Even after we reach home, the dynamic images of our trip still come to our mind as we close our eyes until we have a deep sleep. In the following few days we enjoy many rare dishes using truffles, Aslus, Rosy garlic, and many other natural herbs. But the most attractive for me, is looking to our goats and sheep while they are so happy of eating the collected plants and flowers from our trip. Consequently, you can feel that happiness while drinking their fresh and very tasty herbal milk.
Usage of collected plants!!
Only the collected honey would be eaten immediately as its amount is little and not suitable for preservation. Truffles, Aslus, and Rozy garlic, were brought home for very special and rarely eaten Libyan dishes.
Aslus, the African Mustard
Aslus grows naturally with rain, and used as an herb in a dish called Aslus-Cuscus. This dish contains cuscus, steamed Aslus' fresh flowering stems; sometimes mixed with herbs such as cumin or dell leaves depending on Aslus' availability, and finally served with hot and fresh homemade tomato sauce. This dish is eaten once or twice a year depending on the availability of rain at the beginning of spring in each year's February.
Rozy Garlic
The Rozy garlic is small wild garlic perennial bulb, goes to 30 cm tall or longer depending on the availability of rain, generating a narrow, carnation-like leaves. It has also small, loose umbels laced with intense colored fragrant cup-shaped florets having small six white, pink or lilac tulip-like tepals. Its flowers often decorated with some dark pink bulbils that look like Pomegranate seeds.
The Rozy garlic used as an aromatic herb in variety of Libyan distinctive dishes such as Bazin, cooked often on Friday lunch as a weekend main dish. As Bazin can be heavily seasoned with this pink garlic, you can clearly realize its herbal aroma within breathing distance and the extreme sharp flavor as your tongue touches its sauce. In fact, this plant can be served; for the contained antioxidant and antibacterial properties, also as a natural medicine, especially to curing headaches and colds.
Truffles
Truffles are fragrant natural fungus species from the tuber genus and their weird little tendrils fling out above and under the ground wherever they like and cannot be steered. Even with the technology we reached to in this era, human being is not able to cultivate this amazing Truffle yet.  As a health related point of view, because they develop their tubers completely submerged in nutrient rich soil, truffles have a rich and completely fancy flavor quite unlike any other food delicacy. They have also a deep fragrance and dizzying taste no other plant can possess. In shape, they look like potatoes with a firm, spongy texture and a sweet earthy aroma. I do prefer them fresh, although you can cook them with any dish. In fact after cooking them in a water based sauce, they lose their original taste and become taste closer to mushrooms. Roasting them in oven alone or with different foods might be a challenging idea.
Mason bee honey
Mason bees are so called because they construct their nests usually out of materials like mud and small pebbles. In my childhood time, I got used to observe those bees also invading empty snails and nest them. When they utilize those shells, they clean them well then mark them beautifully like Japanese colorful fireworks. At that time, we did hunt the fresh honey injected in those shells and eat them immediately. The honey and nectar inside is very little but it is much sweeter and has deeper scent than normal honey.
In that period of time, the native honey bees were the main source of pollination to our farm fruit trees blossoms such as Limon, Orange, Grape, apple, Olive and many others. In fact, these Mason bees are 80 times effective than normal honeybees especially for pollinating apples. A single Mason bee can visit 15 flowers a minute and set more than 2400 apples in a day; compared to 50 flowers set in a honeybee's day. In Japan, the Mason horn-faced bees pollinating up to 30% of the country's apple crop, apple growers need around 600 of these bees per Hectare.
If you have a chance to visit the suburban areas of Aomori prefecture, which is the main source of Japanese delicious Apples, you can find easily supportive bamboo filled boxes made just for Mason bees and covered carefully against the winter frost, which these small bees are not tolerant to. This implies how farmers there are giving much care for such natural resources.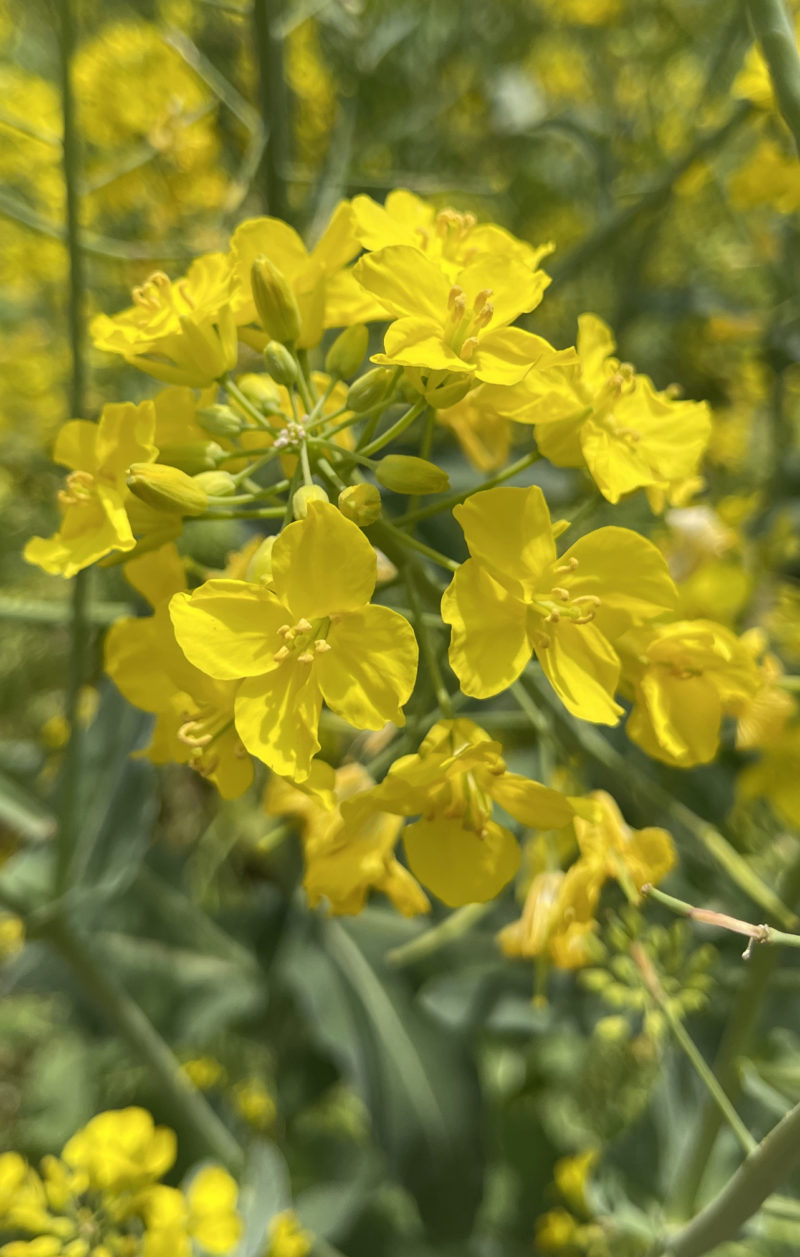 Canola flower is blooming near Shibakawa area. Turnips and Aslus have similar blossoms.
Spring in Japan!!
Although Japan has a huge diverse of very beautiful flowers, in spring Sakura is the representative of them. A few days ago, Cherry blossom/Sakura front was passing Yokohama where Shibakawa Company is located. Not far from here; around 300 meters, every spring, Tsurumi River is flowing while loading a carpet of Sakura flower petals to the nearby Pacific Ocean. On the river, hundreds of ducks and other birds are enjoying eating these petals as a rare event each year. Here are images I would like to share them with you!!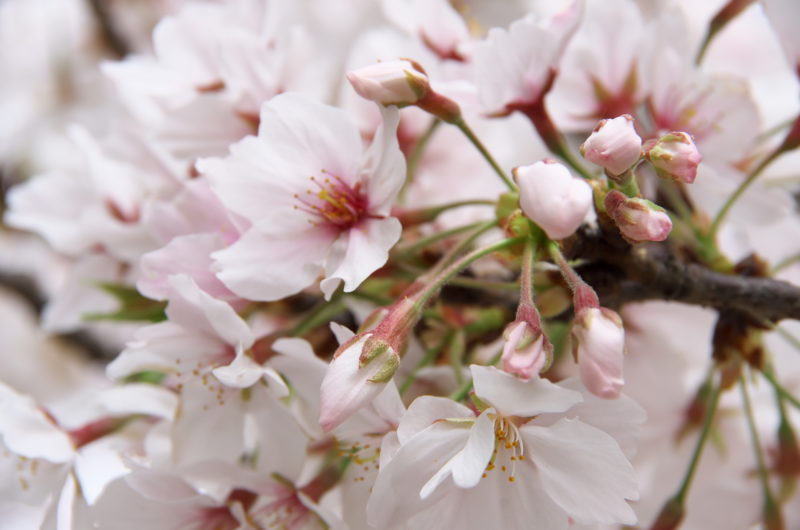 Sakura, the blooming phase.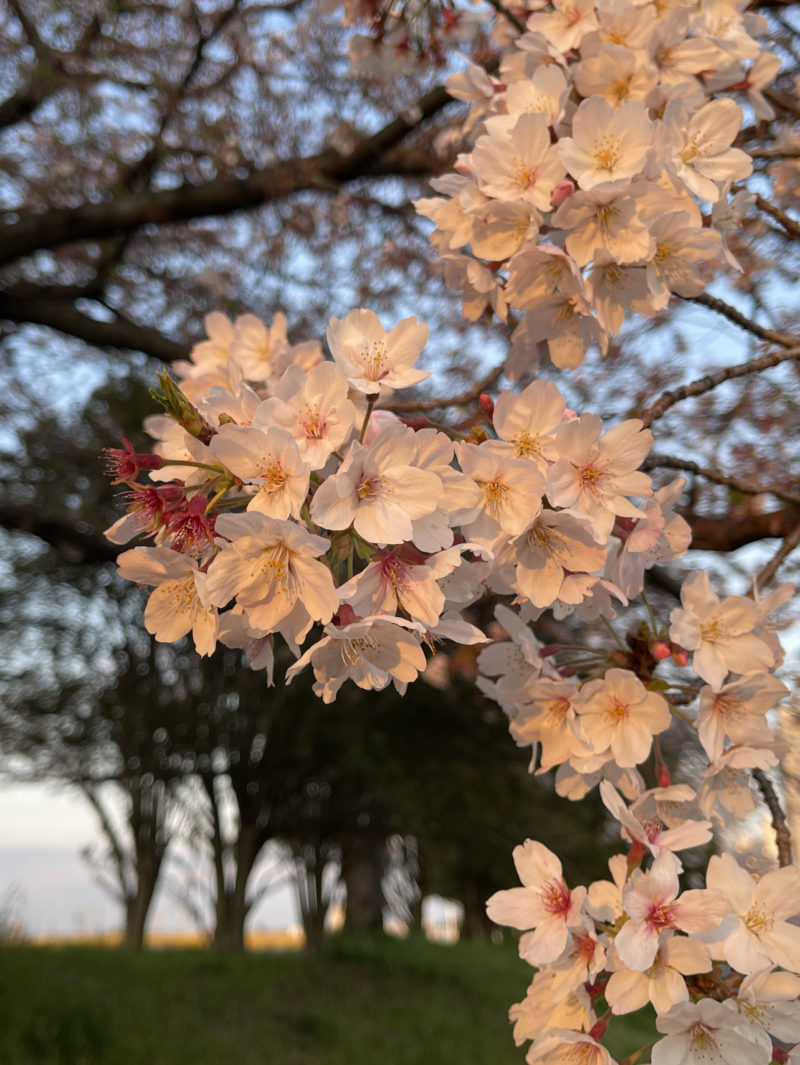 Sakura remain beautiful even after the fall of its petals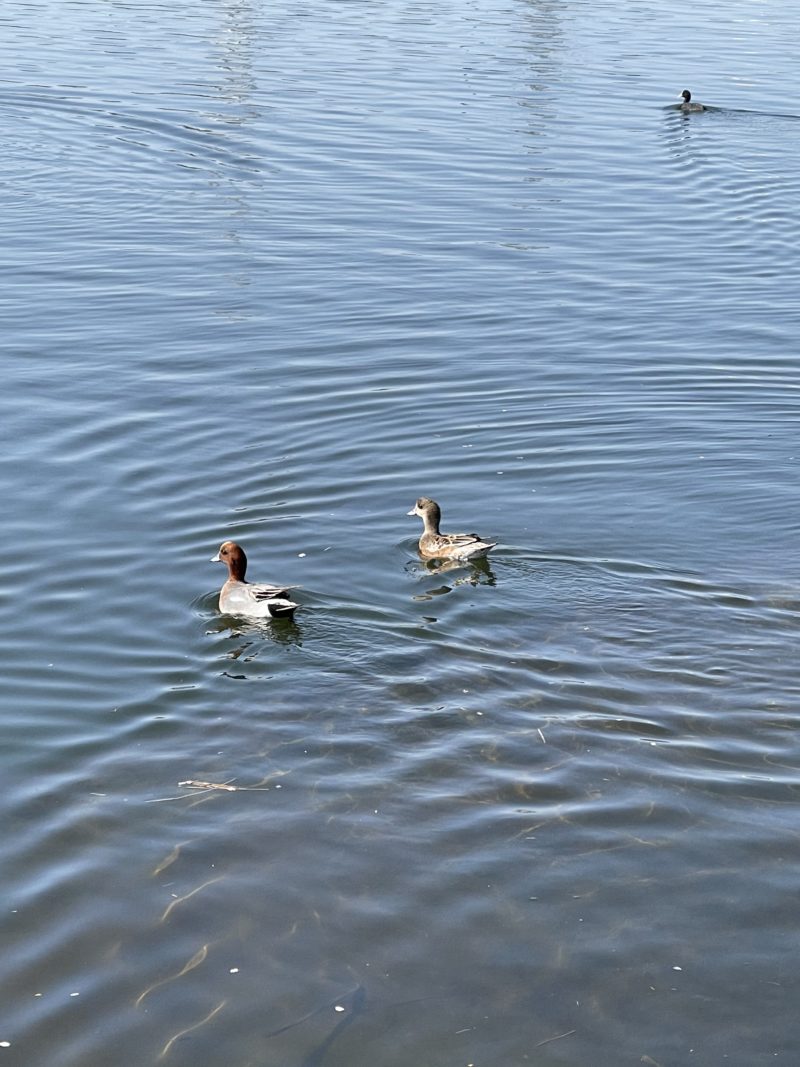 Ducks at the end of their Sakura carpet season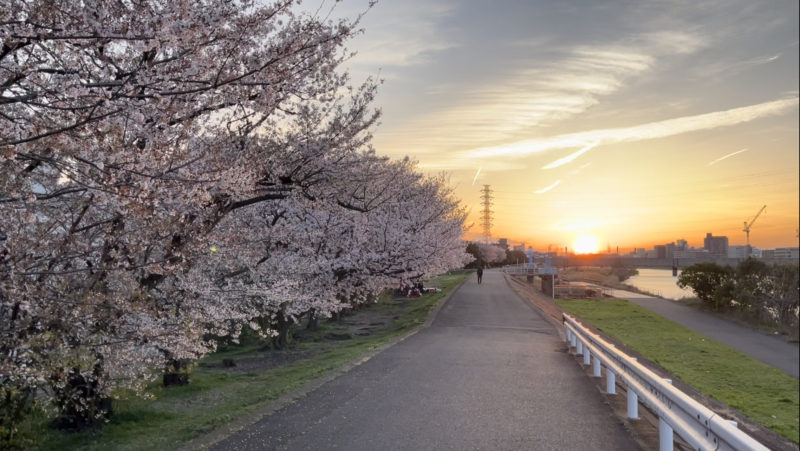 Sakura blossom near Shibakawa
In Libya, from mid of February, we also have many similar blossoms such as that of Apricot, plum, peach, pear, apple, almond, and many others. I think in Japan, one of the most attractive spring scenes is that of Sakura blossom surrounded by the flowers of canola fields as they are blooming simultaneously. Of course in Libya we cannot have such, but we can compete by just filling the existing plum or almond fields with the similar flowers of turnips!!
Next article
In the upcoming article, Oats will be our guest. If you have any questions or you would like to share us any comments just direct a mail to info@shibakawa.co.jp, and we would be so glad to answer you. Thank you for your interest.